Dive into the 19th century Dutch trading post in Deshima, Japan
Dive into the 19th century Dutch trading post in Deshima, Japan
Restored Japanese masterpiece now on display in the Museum Volkenkunde in Leiden
In 2018, the National Museum of World Cultures acquired a folding screen (c. 1836) painted by Japanese artist Kawahara Keiga. The unique screen 'View of Deshima in Nagasaki Bay' depicts the bay of Nagasaki with the Dutch trading post Deshima at the centre. It was in poor condition, but after a restoration process that took nearly three years, this masterpiece can now be admired at Museum Volkenkunde. In conjunction with this event, the museum just launched the Deshima Experience: an innovative web app, which allows users to experience every aspect of the folding screen.
Media
Image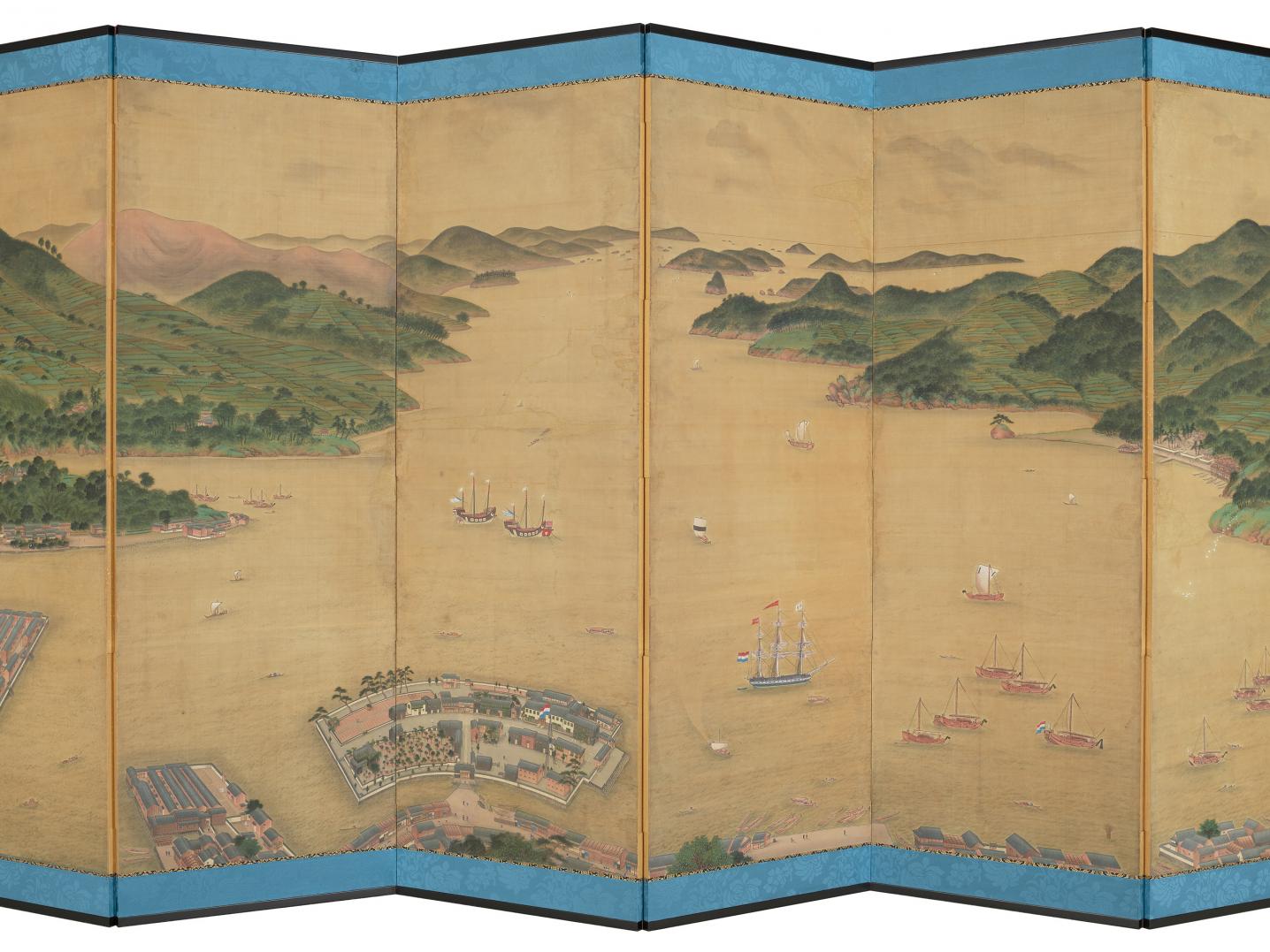 Deshima Experience
The screen's focal point is the artificial island of Deshima; the place designated by the Japanese for doing trade with the Dutch, as the sole Europeans permitted to do so. Through the Deshima Experience, one can learn more about the unique Japanese-Dutch context in which this screen was made. The free web app allows everyone to enjoy numerous stories about the folding screen and the Japan collection on their smartphone, tablet, or laptop, either before, during or after their visit. The experience opens in the browser of your smartphone, tablet or computer without the need to install anything.
Kawahara Keiga 
The folding screen is the centrepiece of the museum's Keiga collection, which runs to 2,000 items and is the largest in the world. As far as we know, this is the only folding screen Keiga ever made. It depicts the extraordinary historical relationship between Japan and the Netherlands in a spectacular fashion. Because of the minute details shown in his work, Kawahara Keiga (1786-c.1860) has often been called 'a photographer without a camera'. In his extensive body of work, he has captured Japanese nature and culture in all their splendour. Keiga had been granted the exceptional privilege of entering Deshima freely, which enabled him to draw the encounters between the Japanese and the Dutch.
Matching Fund
The restoration and the visualisation of the history about the Netherlands and Japan were supported by DutchCulture's Matching Fund. For more behind the scenes information about the restoration process of the folding screen and the Deshima Experience, check out the website of the Museum Volkenkunde.